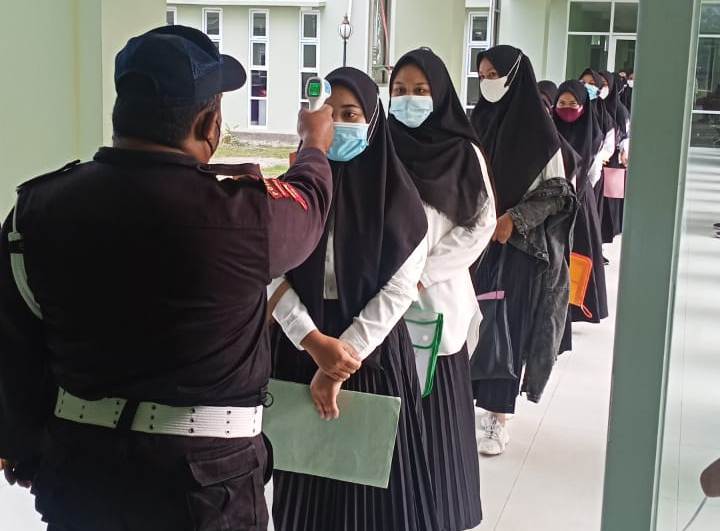 Gorontalo: Gorontalo State University is the manager of UTBK-SBMPTN 2021 in Gorontalo Province. There will be 4,849 participants who will come and take the exam at the Red Maroon Campus.
With the large number of participants who came to UNG during the Covid-19 pandemic, the Rector reminded thousands of participants to comply with the health protocol that will be enforced at the time of the examination later.
"With this large number, we urge us to comply with health protocols at the exam location later. This is to anticipate the spread of Covid-19 because there will be thousands of participants who come to UNG," said UNG Rector Dr. Ir. Eduart Wolok, S.T, M.T.
The health protocols that participants must implement include 3 M, namely using masks during the exam, washing hands when entering the exam room, and maintaining distance.
"One of the important things is not to crowd. Participants who have finished the exam are advised to immediately leave the exam location in an orderly manner to avoid crowds," the Rector hoped.
The test officers, including supervisors, technicians, and security, will be provided with masks, handscoons, and body temperature measuring devices at the test location.
"Before entering the room, participants must have their body temperature measured. In addition, the room, table, and computer equipment used by participants during the exam are sterilized," said the Rector.
For the exam, UNG has prepared 23 computer laboratories that UTBK-SBMPTN registrants can use. The laboratories are spread across the Main Campus with six laboratories and the New Campus of UNG Bone Bolang with 17 laboratories. (Wahid)