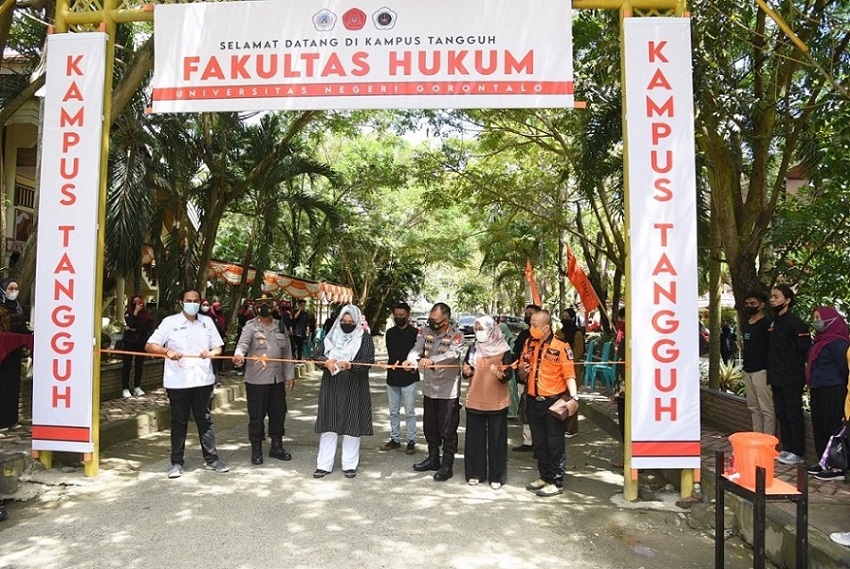 Gorontalo: In response to the spread of Covid-19 problems in the community, the Faculty of Law UNG represents creative ideas by declaring the Kampus Tangguh program. The Faculty of Law Student Senate (SENMA FH) is in collaboration with the Gorontalo Regional Police and the Gorontalo Provincial Disaster Management Agency, inaugurated directly by the Vice Chancellor for Student Affairs and Alumni Prof. Karmila Mahmud, M.A, Ph.D.
Dean of the Faculty of Law Prof. Fenty Puluhulawa, S.H, M.Hum, said that this program was an initiative from SENMA FH in facing the spread of the Covid-19 viruses. A Kampus Tangguh is present as innovation and breakthrough in breaking the spreading of the Covid-19 virus.
"This is our first step to commit to how we can break the spreads of Covid-19 at UNG. Strengthened support from the police, covid units, and disaster management agencies and student initiatives can make UNG stronger and stronger in facing this pandemic," said Fenty.
Meanwhile, the Vice-Chancellor for Student and Alumni Affairs, Prof. Karmila Mahmud, M.A, Ph.D., appreciates FH students, who have always shown stretching positive activities. According to her, this proves that students have great concern for problems in the community, especially in responding to the Covid-19 pandemic.
"Students are agents of change. Then through the Kampus Tangguh, all of you, as law students, have realized responsibility for the nation's problems. This creative and innovative idea can have a big impact on the environment," she explained. (Wahid)