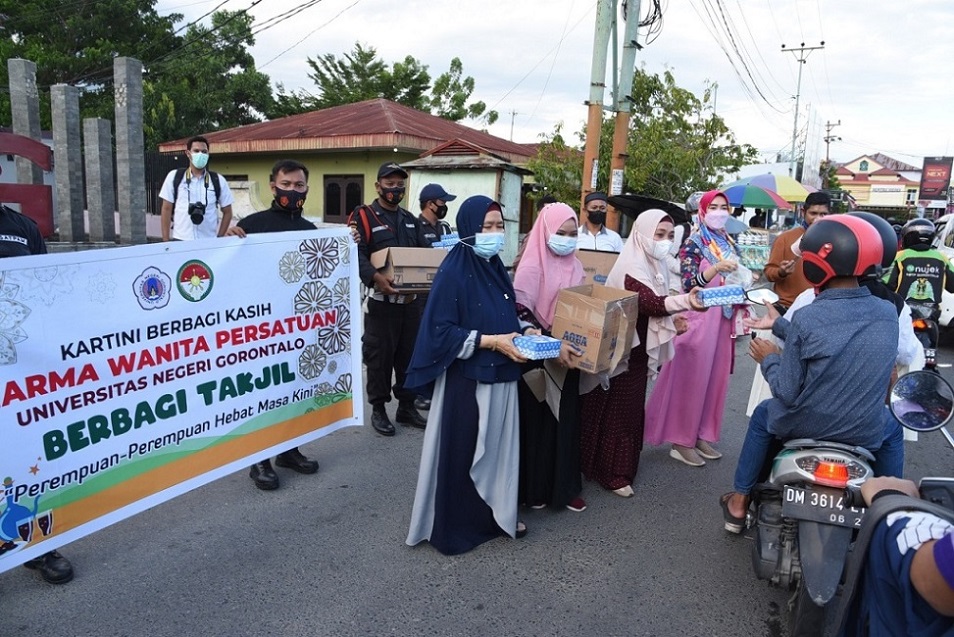 Gorontalo: The month of Ramadan is used to share blessings with fellow humans and gain rewards. It was also done by the UNG Dharma Wanita Persatuan (DWP) committee by sharing blessings by distributing Takjil packages to the community.
The Takjil division was carried out by the Chairperson of the DWP UNG, dr. Cecy Wolok, Sp.Gk together with all members, went directly to the streets around the campus to distribute food packages for breaking the fast to road users.
According to her, the action was carried out as part of the Kartini Day commemoration activities carried out by DWP UNG. "On this Kartini day, DWP UNG tries to commemorate it with positive activities by sharing blessings with the community. There were 500 Takjil Packages distributed by DWP UNG members, which were held at four locations around the campus," said Cecy.
Cecy hopes that this action can be helpful for the community to be able to meet their needs only when breaking the fast. "Even though the value is insignificant, I hope this action can be useful and get a blessing value for all," hoped Cecy.
Meanwhile, UNG Rector Dr. Eduart Wolok, S.T, M.T, also praised the existence of DWP UNG, which consistently held positive activities during the month of Ramadan whether by the basic food packages distribution, online tadarus Al-Qur'an until sharing Takjil.
"Insya Allah, this activity can be intended as a form of worship so that they can be blessed and have a value of merit," concluded Eduart. (Wahid)