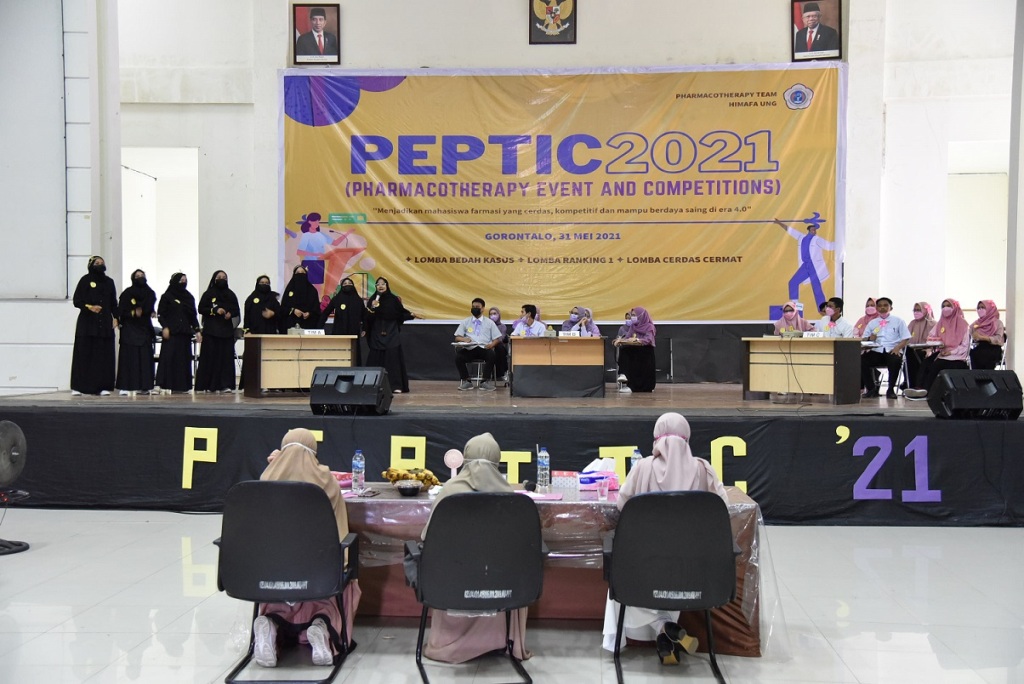 Gorontalo: The Pharmacy Student Association (HIMAFA), Faculty of Sports and Health, Gorontalo State University, held the PEPTIC 2021 event at the Gorontalo State University Auditorium Building. Chairman of the Committee, Zulkarnain Marhabah, explained that this activity is one of a series of Pharmacotherapy laboratory practicum exam activities which are packaged in the form of inter-class competitions ranging from case surgery, ranking one and careful examination for 2018 class students who contract Pharmacotherapy 2 courses from class A, B, and class. C with a total of ± 100 people in a room with a capacity to accommodate more than 2000 people to meet health protocols during the current pandemic.
Head of Lecturer for Pharmacotherapy 2 course Dr. Widy Susanti Abdulkadir, S.Si, M.Si, Apt said this activity is a variation of the learning model that we often do in the Department of Pharmacy. Apart from being a gathering place, it is also to hone the students' skills according to the theme of making bright pharmacy students competitive and competing in Era 4.0.
"We take the initiative every year to hold this event so that Pharmacy students can be equipped with qualified Pharmacotherapy knowledge because, in the Pharmatology and Pharmacotherapy clusters, it is hoped that students can analyze cases in the community," she said.
Meanwhile, the Head of the Department of Pharmacy, Dr. Teti Sutriati Tuloli, S. Fram, M.Si Apt, who opened the activity, appreciated the implementation of this activity. This competition, said Teti, is a place to train students to compete with one another.
"This is not a matter of who wins and who loses, but it is a matter of sharpening the spirit of competition, who won today Alhamdulillah and those who lost do not despair," she concluded. (Ismet)