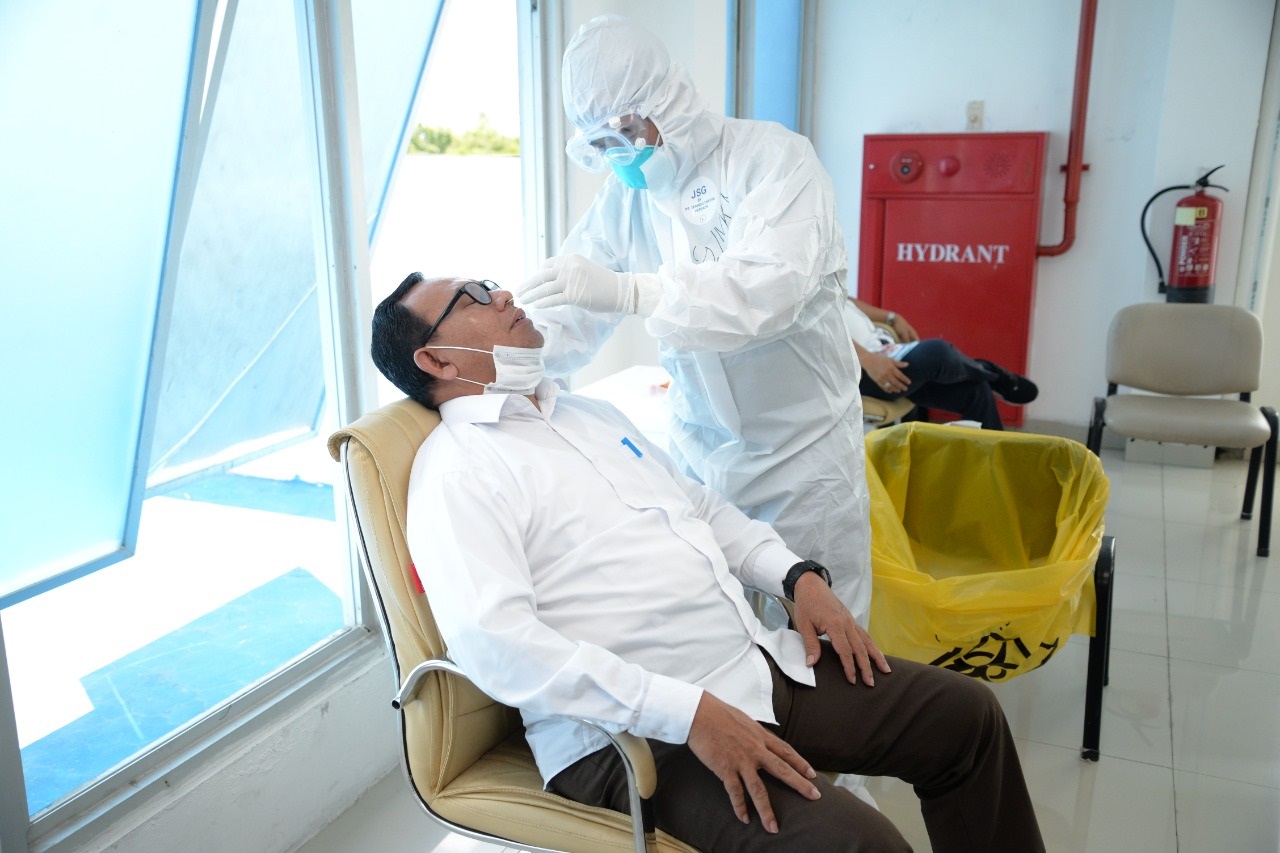 Gorontalo: Gorontalo State University will start the Covid-19 Vaccination stage for Lecturers and Education Personnel immediately. The vaccination phase begins with tracking and swab tests by the Gorontalo Provincial/City Joint Health Office, Wednesday (10/3) in the UNG Rectorate Hall.
Vice-Chancellor for Academic Affairs Dr. Harto Malik, M.Hum, said that the tracking and swab test is an initial stage to ensure the lecturers and employees are healthy from Covid-19 and as an attempt to suppress the spread of the virus in the campus environment.
"UNG will immediately carry out the Covid-19 vaccination, so we do track and swab tests firstly to determine who is eligible to receive the vaccine," said Harto.
According to him, the entire academic community, both Lecturers and Education Personnel, are committed to participating in the success of the vaccination stage in welcoming the preparation of the onsite learning process. Vaccines will be administered in steps for the entire academic community, both lecturers and students.
"Currently, we will carry out vaccinations in stages. The initial stage is given to the Leadership of Universities, Faculties, Institutions, Departments, Study Programs, UPT, and Heads of Laboratories. In addition, related units to the campus service activities and the Leadership Secretariat will also be prioritized," said Harto.
After the results of tracking and swab are obtained, administering vaccines will be rescheduled for the academic community, who are deemed ready to get a vaccine. This vaccination program is in collaboration with the Gorontalo Provincial/City Joint Health Service.
"By starting to give the vaccines in the campus environment, we hoped that it could support the government's target in national vaccination, in achieving herd immunity to suppress the spread of Covid-19," he hoped (Wahid)