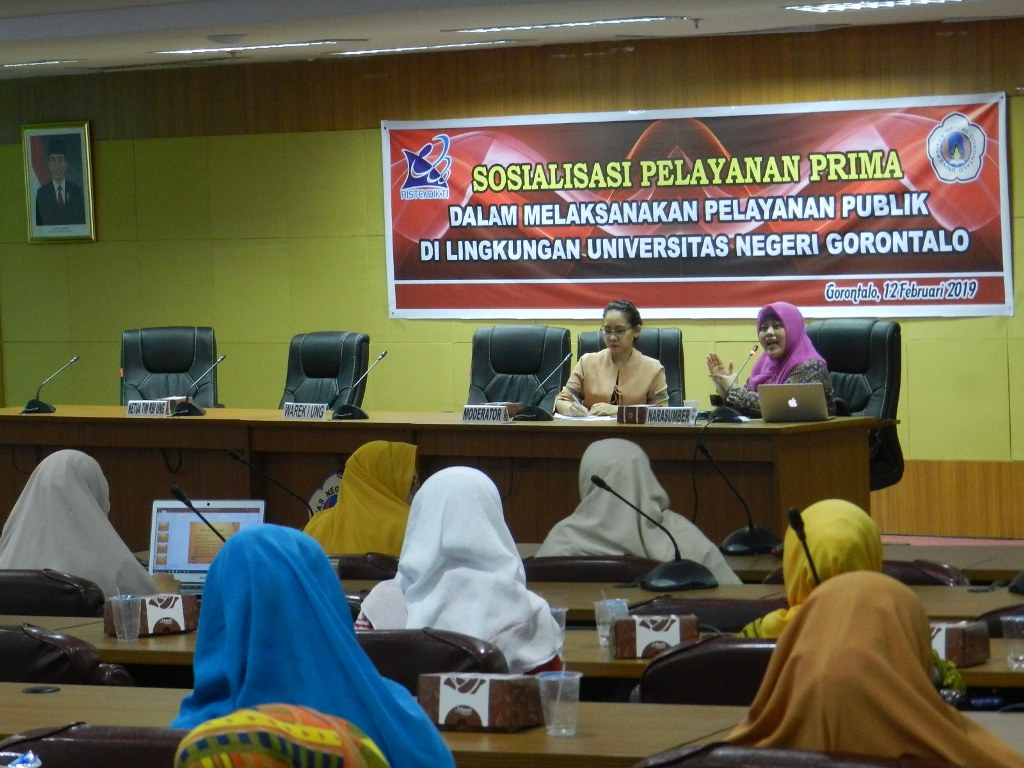 Gorontalo – The University is the institute of government which giving the service to society, and it demanded to giving the best service and maximal to several aspect. In responding the need of society, UNG through Reformais Birokrasi team held the socialization about giving the good service, Tuesday, 12th of February.
On socialization to embody the quality of the service, UNG has sharing with Universitas Indonesia (UI) that represented by the secretary of Reformasi Birokrasi teamUI Dr. Rifeli Dewi Astuti, S.E, M.M,. The socialization been involed all of the leadership related in University / UNG.
The Vice of Rector I Prof. Dr. Ir. Mahludin Baruwadi, MP, stated that in reaching the good service is the obligation that must to do by the institute of government as a attempt to conducted good governance. Especially, UNG has been reached the A for accreditation and it needs increase the quality of service in different sector,whether an education service or administration service.
" The increasing of accreditation of institute , so the quality of the public service must be pushed either. Because with the best status of accreditation, UNG to be notice had a good quality either, in different sector in particular public service, stated by Vice Rector I.
He believed that one of the main key on realizing the quality of a good public service are support and commitment from all of the civitas academica and the leadership particularly. The Leadership is the motor to powering the quality of the public service.
"The commitment is obviously needed, if it required the good quality of public service. UNG been commited on realizing the good quality of public service, as a effort to implement Reformasi Birokrasi," expected by Prof. De. Ir. Mahludin Baruwadi, MP.