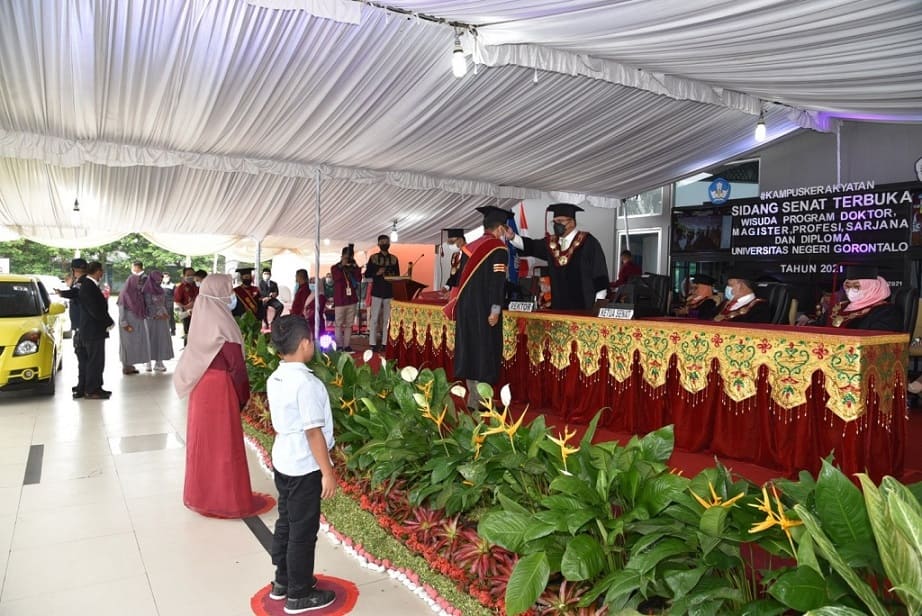 Gorontalo: Gorontalo State University will hold the first Graduation Procession for 2021 by confirming that 815 best graduates from ten faculties and postgraduate degrees have won academic degrees. The inauguration of the best graduates was carried out by the Rector of UNG, Dr. Ir. Eduart Wolok, S.T, M.T, through an open session of the Senate Graduation for Doctoral, Masters, Bachelor, and Diploma programs for March 2021, Monday (29/3).
In his speech, the Rector said that the graduation was a moment to be grateful. Because amid a pandemic situation that hits all aspects of people's lives, UNG can continue teaching and learning activities. It is proven by its success in inaugurating the 815 best graduates in early 2021.
"Congratulations on the success and the title you have received. This is not only a special day for graduates and their families but also very special for UNG, which until now has consistently produced quality graduates despite the pandemic storm." Said the Rector.
According to the Rector, the inaugurated graduates this time were extraordinary because they were born during tough and challenging times. There were many waves of layoffs due to the economic decline due to the pandemic storm.
"Stay confident and believe in all your provisions and knowledge while studying at UNG. Insya'allah, you will have more value in society for how to contribute and take part not only for yourself but also for the wider community," said the Rector.
The Graduation Ceremony on March 2021 was carried out using the Drive-Thru model. The inaugurated students consist of 77 UNG Postgraduate graduates and 738 graduates with undergraduate and diploma degrees from 10 faculties at UNG. (Wahid)