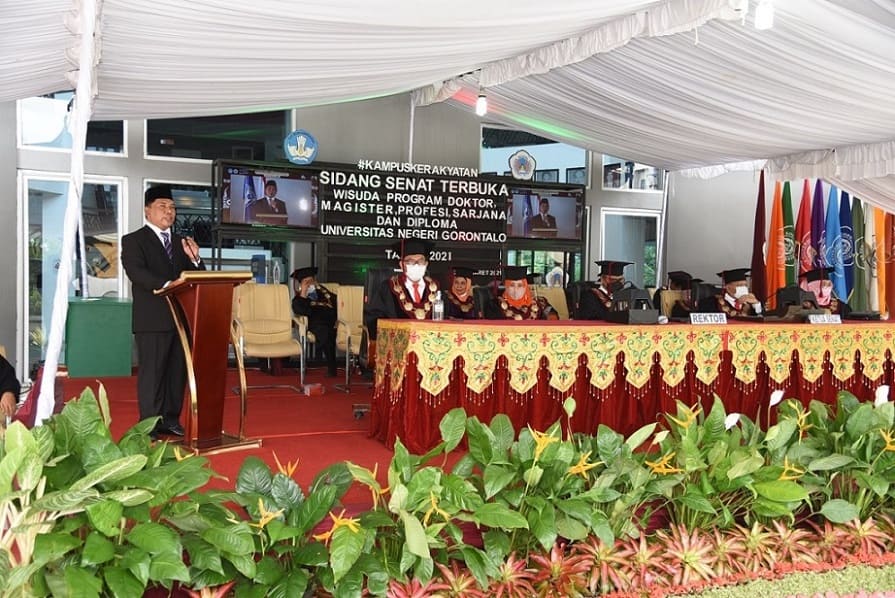 Gorontalo: Alumni are an essential part that cannot be separated from University. According to the Head of the UNG's alumni association, Dedy Hamzah, S.Pd, alumni as a critical element of Gorontalo State University must have three things that can strengthen Alumni and University bonds.
"As alumni, we must have three things; first is to have a love for the UNG Campus. Even we are no longer in the campus environment, we have to keep and nurture that love." Said Dedy when giving a speech at the Graduation procession for Doctoral, Master, Bachelor, and Diploma programs.
The second thing that alumni must have is having a high level of concern about the campus. This concern will encourage Alumni to work hand in hand and contribute to supporting the campus's progress.
"With a sense of love and concern, we will bring forth the third thing, namely a sense of sharing for the campus. We will give what is in ourselves and the ability of the Alumni to UNG, by building institutional cooperation with one goal for UNG which is increasingly excellent and competitive," he explained.
Meanwhile, the Rector, Dr. Ir. Eduart Wolok, S.T, M.T, hopes that even if they are not in the campus environment anymore, the interaction and connectivity between UNG and Alumni will continue because UNG should not be forgotten when they have graduated.
"UNG must be closer to your hearts and minds as graduates. So we can progress towards an excellent and competitive campus," concluded the Rector. (Wahid)