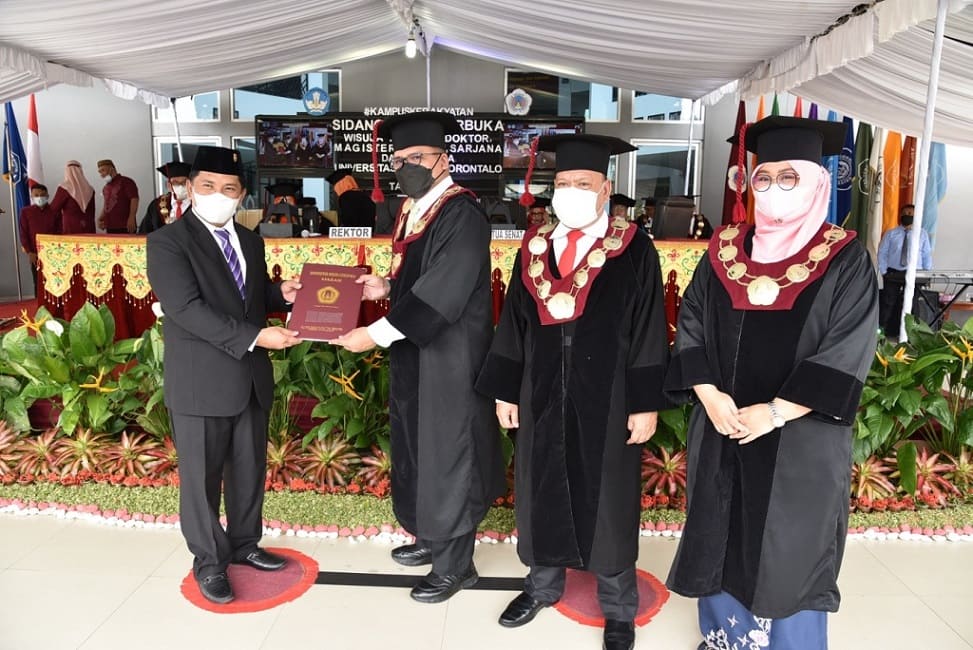 Gorontalo: Rector of Gorontalo State University, Dr. Ir. Eduart Wolok, S.T, M.T, handed over 815 UNG graduates who officially have status as alumni to the Ikatan Keluarga Alumni (IKA) of UNG. The Rector handed over the best alumni symbolically to the head of the IKA UNG, Deddy Hamzah, within the Graduation for Doctoral, Masters, Bachelor, and Diploma programs for March 2021.
The Rector revealed that with the inauguration of the 815 best graduates. UNG not just added the best graduates but increased the number of alumni.
"Today, UNG has 815 alumni, who are expected to contribute to the development of UNG in the future," said the Rector.
After studying at UNG, said the Rector, the tasks that Alumni must carry out are how to take part in achieving success and contribute to the progress of UNG in the future.
"The interaction and connectivity between UNG and Alumni will keep continuing because UNG should not be forgotten when you have graduated. And now, UNG must be closer to your hearts and minds as graduates. So we can progress towards an excellent and competitive campus," explained the Rector.
Meanwhile, the Head of IKA UNG, Deddy Hamzah, said that IKA UNG officially accepted 815 alumni submitted by the Rector. With the increasing of alumni, we hope that we can communicate with each other to see opportunities. Then we will work together to achieve success so that they can work together to support the progress of UNG.
"UNG belongs to us together, and to develop it, all we need is our support. For this reason, Alumni through the IKA UNG must be able to take an important role in supporting the progress of UNG to become one of the best universities," he concluded. (Wahid)