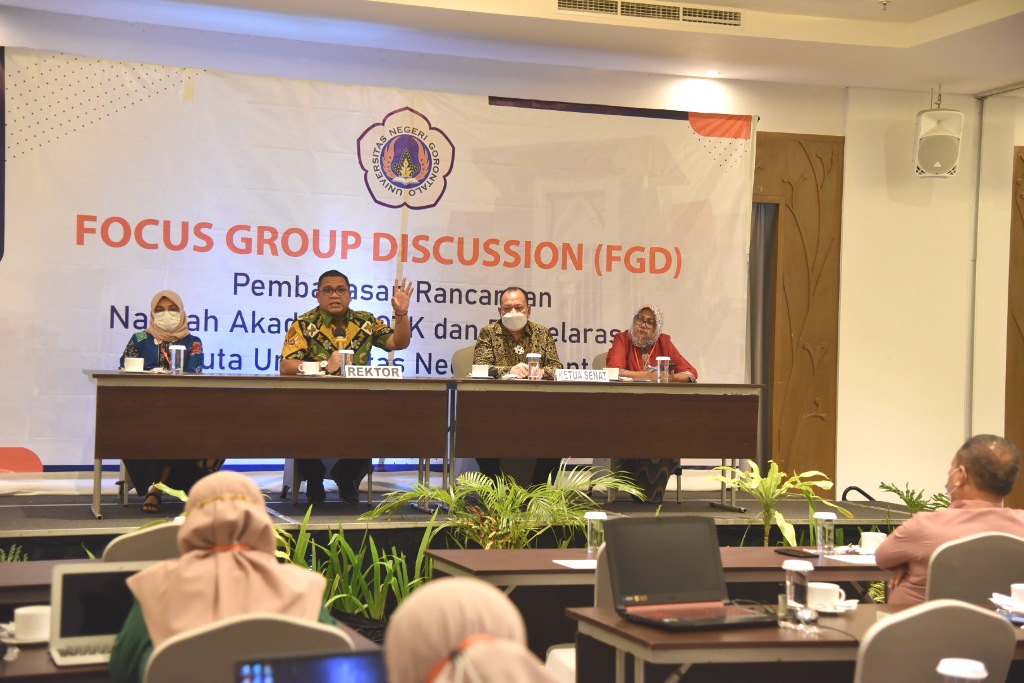 Gorontalo: In preparing the Organisasi Tata Kerja (OTK) and aligning the statutes, the UNG Senate held a Focus Group Discussion (FGD) discussing the draft OTK academic manuscripts and aligning UNG statutes, Wednesday (7/4).
Chairperson of the UNG Senate Prof. Dr. Rauf A Hatu, M.Si, said that the implementation of the FGD was one of the steps carried out by the Senate in refining the OTK and UNG Statute. According to him, the OTK and the Statute preparation is a tough job for the Senate which has been discussed for the last seven months.
"Even though it is tough, the Senate is committed to continuing to accelerate the process. Insya Allah, it will be refined and then submitted to the Ministry in September or October. So that at the end of 2021, the Statute and OTK UNG will soon be completed," said Rauf.
In discussing the draft of the academic manuscript and aligning the statutes this time, Rauf said that the Senate presented several speakers who would provide input and reinforcement, including the Legal Bureau and the Organization and Administration Bureau.
"OTK and Statute are the souls of Higher Education, so the process is carried out without haste. It is hoped that this process can produce OTK and Statutes following the needs of the UNG," he said.
Meanwhile, UNG Rector Dr. Ir. Eduart Wolok, S.T, M.T, said that this moment was the first time for UNG to discuss OTK and Statute together by involving elements of the campus.
"The two of them were discussed jointly by us together, and of course, the results of this discussion in the form of OTK and Statute must be accounted for collectively," explained Eduart.
The Rector hopes that the preparation of OTK and Statutes is not carried out in a hurry so that the drafting process is for institutional interests and not personal or individual interests.
"The preparation and discussion must be gradually increased so that it can be properly completed. When it is finished, it will be presented to all members of the Senate, perhaps even to the Heads of Departments and Study Programs," said Eduart. (Wahid)